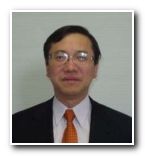 Professor Tomonori HASEGAWA, MD PhD
Professor and Chair, Division of Health Policy and Health Service Research Department of Social Medicine, Toho University School of Medicine of Japan
Professor Hasegawa is Professor and Chair of the Division of Health Policy and Health Service Research Department of Social Medicine at the Toho University School of Medicine of Japan. He had his medical education at the Tokyo University School of Medicine, where also received his Doctor of Philosophy. He was previously a Resident at the Tokyo University Hospital in Internal Medicine.
He is a member of the Japanese Society of Public Health, Japanese Society of Hygiene, Japanese Society of Transplantation, Japanese Society of Hospital Administration, Japanese Society of Healthcare Management. He also holds membership of the following specialist councils or committees: Ministry of Labour, Health and Welfare, Committee on Disclosure of Healthcare Information, Committee on the Administration of Healthcare Organizations, Cabinet Office Council for Regulatory Reform, Office for the Promotion of Regulatory Reform and Private Finance Initiative, Japan Council for Quality in Health Care Center for Medical Accident Prevention (vice-chair).
Professor Hasegawa's research background includes health policy, health economics, quality assessment of health care.
10:40 am - 10:55 am
Plenary Session I
Moderators:
Dr SH Liu, President, Hong Kong College of Health Service Executives &
Dr Ben Fong, Senior Lecturer, PolyU SPEED
Plenary Session II
Moderators:
Prof. Maurice Yap, Dean, Faculty of Health and Social Sciences, PolyU &
Prof. Warren Chiu, Associate Dean, CPCE, PolyU