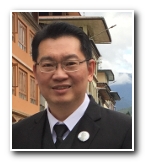 Dr Phudit TEJATIVADDHANA, MD MPA (1st class Hons) DHSM(UNE) FCHSM
Assistant to the President, Comprehensive Operations, Naresuan University
Assistant Professor, College of Health Systems Management,
Naresuan University (NU)
Dr Tejativaddhana is the Assistant to the President for Comprehensive Operations of the Naresuan University (NU) at Phitsanulok in Thailand, and the Assistant Professor of the College of Health Systems Management at NU. He has been assigned to establish and manage the College of Health Systems Management at NU, which aims to create body of knowledge on health systems management and train managers and researchers in this field in order to help support Thailand and other countries in this sub-region especially in ASEAN to achieve the UN's sustainable development goals (SDGs) in 2030. He was commissioned to consider a draft of the Public Health Professional Act which was successfully enacted in 2013. He initiated the award for the best public health practitioners in Thailand and was conferred the name of the award from H.M. King Bhumipol as 'Jayanadnarendhorn' (The name of Thai prince who is the founder of Thai Public Health Ministry).
Dr Tejativaddhana is a general practitioner by background and has been in senior executive roles both in the public and private sectors for many years. He is a founding Director of the Lower-northern Region Heart Centre at NU, advisor to the Minister of Public Health, member of the Senate Standing Committee on Public Health, member of the Subcommittee on Health Services Reform, National Reform Council, former Vice President of Navamindradhiraj University, Bangkok and former Dean of the Faculty of Public Health, NU. He initiated and headed the Master of Public Health program with an emphasis on health services management at NU, a program that was funded by the National Health Security Office.
Dr Tejativaddhana's research and publications interest focus on health reform, health systems management, and primary health care. Internationally, Dr Tejativaddhana is the founding member of the South-East Asia Primary Health Care Innovations Network (SEAPIN) which is supported by the WHO SEARO. He is also the founding member of the Greater Mekong Subregion Public Health Academic Network, which includes the Deans and the Rector of 14 public health academic institutions in Cambodia, China, Laos, Myanmar, Thailand and Vietnam.
10:55 am - 11:20 am
Plenary Session I
Moderators:
Dr SH Liu, President, Hong Kong College of Health Service Executives &
Dr Ben Fong, Senior Lecturer, PolyU SPEED
Plenary Session II
Moderators:
Prof. Maurice Yap, Dean, Faculty of Health and Social Sciences, PolyU &
Prof. Warren Chiu, Associate Dean, CPCE, PolyU