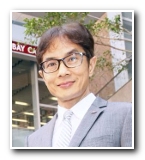 Professor Peter P. Yuen is Dean of the College of Professional and Continuing Education (CPCE) of The Hong Kong Polytechnic University (PolyU). He is also Professor in the Department of Management and Marketing of PolyU.
He received his Bachelor of Arts degree in Cellular and Molecular Biology and Master in Business Administration degree from the State University of New York at Buffalo, and his Doctor of Philosophy degree in Health Economics from the University of Birmingham. Professor Yuen's research involves public policy formulation and evaluation, and health services management. He is an Editor of Public Administration and Policy and an Editorial Committee member of Asia Pacific Journal of Health Management. He is also a consultant for the Hong Kong SAR Government and the Bauhinia Foundation on a number of public policy related projects including the West Kowloon Cultural District, Sustainable Built Environment, Subsidized Homeownership, Managed Care, and Health Systems Reform.
Professor Yuen is currently the Chairman of the Federation for Self-financing Tertiary Education (Hong Kong). He is a founding Fellow of the Hong Kong College of Health Services Executives, and an Honorary Fellow of the Australian College of Health Services Management. He once served as Vice-President of the Chinese National Institute of Health Care Management Education, and President of the Hong Kong Public Administration Association.
12:20 pm - 12:40 pm
Plenary Session I
Moderators:
Dr SH Liu, President, Hong Kong College of Health Service Executives &
Dr Ben Fong, Senior Lecturer, PolyU SPEED
Plenary Session II
Moderators:
Prof. Maurice Yap, Dean, Faculty of Health and Social Sciences, PolyU &
Prof. Warren Chiu, Associate Dean, CPCE, PolyU