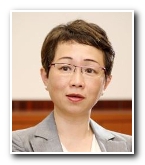 Professor Jui-fen Rachel LU, BS MS ScD
Professor, Graduate Institute of Business and Management and Department of Health Care Management of the College of Management, Chang Gung University
Professor Lu is a Professor in the Graduate Institute of Business and Management and Department of Health Care Management of the College of Management at Chang Gung University in Taiwan, where she teaches comparative health systems, health economics, and health care financing and has served as Department Chair (2000-2004), Associate Dean (2009-2010), and Dean of College of Management (2010-2013). She earned her B.S. from National Taiwan University, and her M.S. and Sc.D. from Harvard University.
Professor Lu was a Fulbright Visiting Scholar at Stanford University (2015-2016), and a Takemi Fellow at Harvard (2004-2005), and she is also currently an Honorary Professor at Hong Kong University (2007-2017). She co-founded Taiwan Society of Health Economics (TaiSHE) in 2008 and currently serves as President of TaiSHE (2014-2017). Professor Lu is also a member of the Arrow Award Committee for International Association of Health Economics (iHEA) (2014-2016), and iHEA board director.
Her research focuses on 1) the equity issues of the health care system; 2) impact of the NHI program on health care market and household consumption patterns; 3) comparative health systems in Asia-Pacific region. She is a long-time and active member of Equitap (Equity in Asia-Pacific Health Systems) research network.  Professor Lu has been appointed to serve on several advisory boards to Taiwan Ministry of Health and Welfare, National Health Insurance Administration, and Ministry of Science and Technology.
11:40 am - 12:00 pm
Plenary Session I
Moderators:
Dr SH Liu, President, Hong Kong College of Health Service Executives &
Dr Ben Fong, Senior Lecturer, PolyU SPEED
Plenary Session II
Moderators:
Prof. Maurice Yap, Dean, Faculty of Health and Social Sciences, PolyU &
Prof. Warren Chiu, Associate Dean, CPCE, PolyU